March 7, 2012 | Posted in Business and Professional, Community Service, Life, Social | By kennypugh
Comments Off
Greetings:

If you are looking to get involved in a worthy cause, The Not Alone Foundation is seeking committed individuals to serve as volunteers for the "Laps for Life: 2012 Kidney Walk". Help us take a stand for Kidney Disease Awareness and give the gift of life. This event will take place on Saturday, March 17th, 2012 from 10am-1pm. The festivities will take place on the campus of Morehouse College. There will be health screenings, live entertainment, special guest celebrity appearances, a Greek step show and free refreshments. This event is the kickoff for the 2012 Diamond Awards show later that same evening.

We are in need of individuals to serve in the following capacities:

1. VIP Area for special guests
2. Logistical Coordinators for Businesses & Partners participating in the health expo
3. Gate Keepers to answer questions of participants
5. Greeters

6. Registration Table(s)

If you are interested in volunteering, please reply to this email including which position you'd like to serve in. For more information on the Not Alone Foundation and to register for the "Laps For Life: 2012 Kidney Walk", please visit the link:  http://thenotalonefoundation.org/.

Please find attached the advertisements for both the "Laps For Life: 2012 Kidney Walk" & The Diamond Awards show with venue and event specifics. Feel free to pass this information along to your extended networks for participation.
Thanks in advance for your responses.  We hope to see you there!
Ina Imeisha Allicott, MPH
Phone: 412-728-5767

The Not Alone Foundation
Director| Hospitality & Volunteers
Blogger/Columnist/Motivational Speaker
Website:
www.inaallicott.com
Twitter: @MissImeisha
February 3, 2012 | Posted in Social | By kennypugh
Comments Off
Chat Kafe and The WEDucator Present…
An Evening of Entertainment
Tuesday, February 14th from 7:00-10:00PM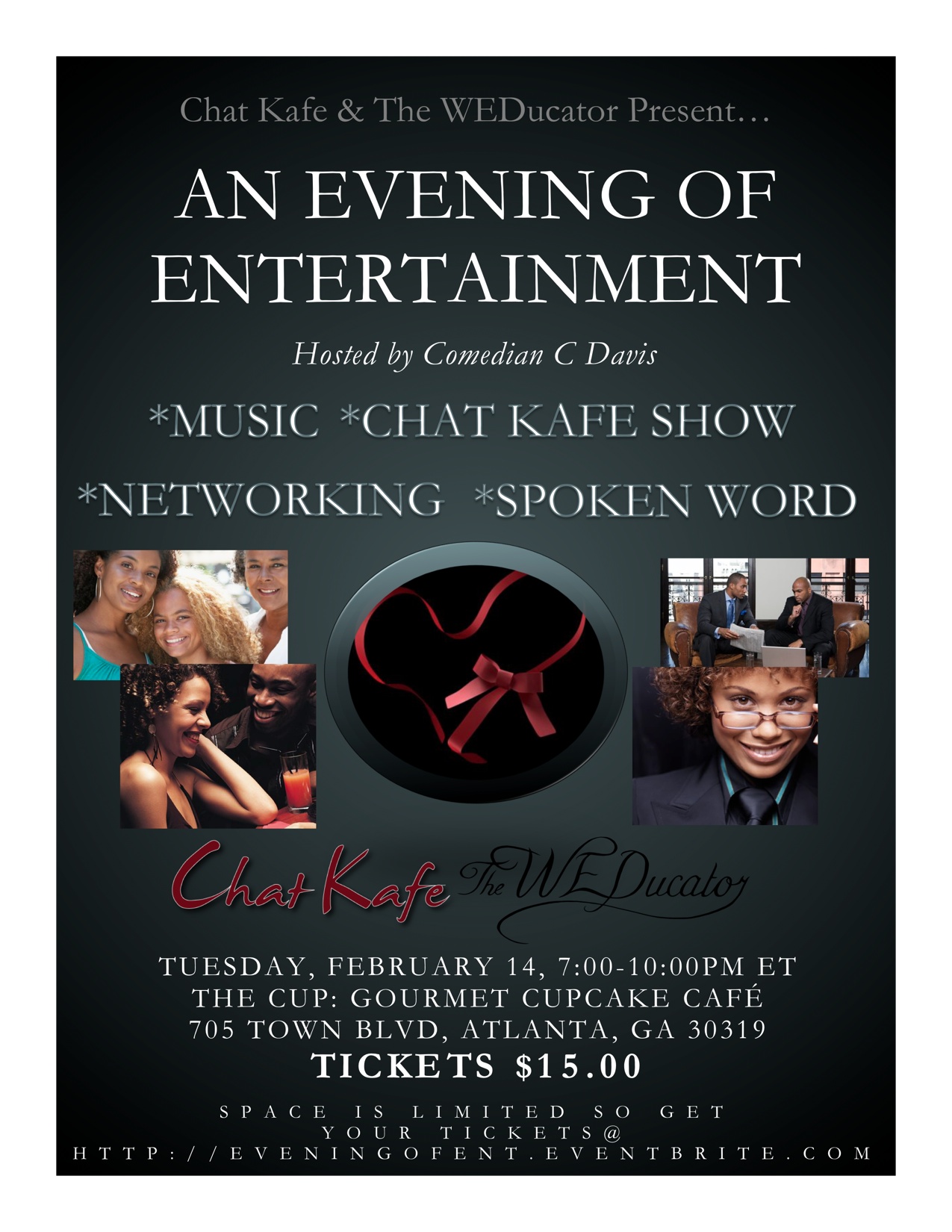 Location: THE CUP – Gourmet Cupcake Café
Click Here to Purchase Tickets
Join us for an evening of entertainment including networking, music, dessert, spoken word and giveaways! The cost is only $15.00 and will provide you VIP access to the eclectic event venue with limited number of tickets available. You don't want to miss out on this event!
If you have any questions, please e-mail us at info@chatkafeonline.com.